INTRODUCTION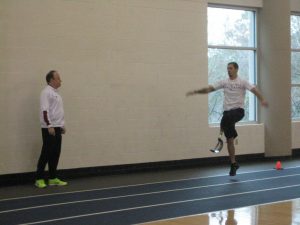 I am really excited to have Bryan join the Invictus Foundation team. He is superbly qualified to be our expert knowledge base in building world-class resiliency programs for the men and woman suffering from the physical and invisible wounds of war at the planned Invictus Centers for TBI & Psychological Health in Orting, WA.
Many people do not understand that veterans are not eligible for the more generously funded DOD satellite military facilities. To access those Centers such as the Intrepid Spirit Centers you must be on active duty. Veterans are left with decidedly more modest centers. Our dream is to build regional centers that are fed by our regional Welcome Home Networks that emulate the Lakeshore Foundation in Alabama.
Many people often ask me, "Peter, isn't that where our taxpayer dollars are supposed to be going in the funding of the VA". The answer is yes and no. Inarguable that is one of many of their mandates. However, the System is overwhelmed, outdated and hopelessly behind the curve in helping our military personnel and veterans cope with what they have experienced in the crucible of war. The private sector has a vital role to play in alleviating some of the short-fall in TBI and psychological health services.
I believe one of my chief roles is to show private sector donors how they can assist in this short-fall in the most cost-efficient manner while simultaneously generating tremendous goodwill for its brand in the community in which these Centers will be placed. The below quote gives an accurate description on the financial cost of ten years of war in the Middle East let alone the human cost of waging it over those years.
Costs won't peak soon
The true cost of war can't be known for years and decades after the last bullet has been fired. A disability tied to military service might take years to emerge, and might steadily worsen after it does. Bilmes, the Harvard professor who co-wrote "The Three Trillion Dollar War" with Nobel laureate Joseph Stiglitz, said the peak for paying out claims from World War II didn't come until the 1980s. The peak for the Vietnam War, which ended nearly four decades ago, hasn't yet been reached. "We expect to see the same kind of lag this time around," Bilmes said
One of our generation of warriors proudest achievement was to have the Nation understand, albeit belatedly, that you don't blame the warrior for an outcome that was politically dictated by the hapless policies of politicians. As von Clausewitz famously said, " war is the continuation of politics by other means". My passion for the last nine years has been to "pay it forward" to benefit this Nation's latest generation of warriors in providing them provider portals and planning world-class Centers as an actual physical demonstration of "Welcome Home from a Grateful Nation".
I won't stop until I have realized the dream of the Invictus Centers for TBI & Psychological Health.
Coach Hoddle will be responsible for the R&D of all physical activity programs that fulfill the mission of the Invictus Foundation
Coach Hoddle will be responsible for development, implementation and management of the programs of physical activity that fulfill the mission and vision of the Invictus Foundation. This responsibility will span the continuum of programming in fitness, aquatics, recreation and athletics. Coach Hoddle's primary responsibility will be developing world class programs in the aforementioned areas for injured active duty military personnel and veterans sponsored through and by the Invictus Foundation.
Peter J. Whalen, CEO of the Invictus Foundation, states, "In the years ahead, Coach Hoddle will closely consult with me in preparation for the groundbreaking on our first TBI (traumatic brain injury) & Psychological Health Center. We anticipate the new Western Regional Center will be located in Orting, Washington. "Bryan will provide the expertise and knowledge base to help me bring the physical recovery and fitness aspects of this project to life," Whalen said.
Coach Hoddle has worked extensively with injured soldiers helping amputees, traumatic brain injuries, blind and wheelchair soldiers. He has been honored by the Washington State House of Representatives with HR 4675 for his work teaching, coaching, working with athletes with disabilities and Soldiers/Veterans as well as having been awarded a 2014 USA Track and Field Presidential Award.
In August of 2002, he was named Program Director for the USA Paralympics Track and Field Performance Coaching Staff. In the summer of 2000, he served as Assistant Manager for the World Junior Track and Field Team. He was selected Head Coach for the 2004 USA Paralympics Track and Field Team held in Athens, Greece.
"I was so pleased when Peter asked me to assume the role of the Chief Program Officer for the Invictus Foundation," states Coach Hoddle. "He and I have had a long-term collaboration around his dream of improving access and service levels for behavioral health services to uniformed services personnel, veterans and their families as well as the physical recovery and fitness aspects of their "new normal" that stretch back to his founding of the Invictus Foundation nine years ago. I have always believed that he had the leadership skills, competency, credibility and character to one day bring his vision to life."
Conclusion
One of my driving believes has always been a plan without execution is just a hallucination. We have accomplished a great deal in nine years with much left to achieve. We have proven to our supporters that we are in it for the long haul and are executing our strategic and tactical game plan with intelligence, patience and an eye toward the long game.
The joy is in the journey not how quickly you get there.